Grid Packing
TPT PACIFIC supplies the various type Grid packings. Grid packings are developed primarily for severe services
which are susceptible to Fouling, Erosion, Coking and High solid content.
TGP-1 Grid packing was one of the first grid packings ever applied and is still widely used in refineries.The TGP-3 and TGP-4 are similar in construction to TGP-1 and TGP-2 respectively, except for a non bent in the geometry of the blades. Blade of grid packings are bent out at an angle from the vertical to induce turbulent contact between the rising vapors and descending liquid.
TGP-F2 is optimized for maximum capacity, low liquid hold-up and minimum pressure drop and provides the greatest fouling resistance. TGP-F3 provides improves efficiency because it has a longer projected area perpendicular to the gas flow. Grid packings are typically manufactured from 1.2 mm thick but upon request are also available in 2.0 mm thick. The heavy thickness of material gives the packing significantly greater life in corrosive and/or erosive system.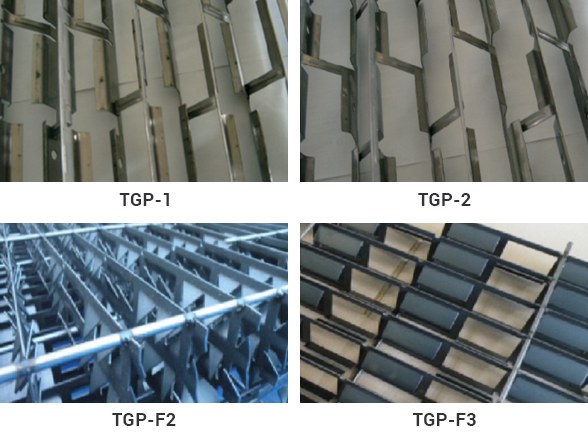 TYPE
TGP-1
TGP-2
TGP-3
TGP-4
TGP-F2
TGP-F3
SURFACE AREA
(m2/m3)
37
37
37
37
45
45
LAYER HEIGHT
(mm)
54
70
54
70
70
70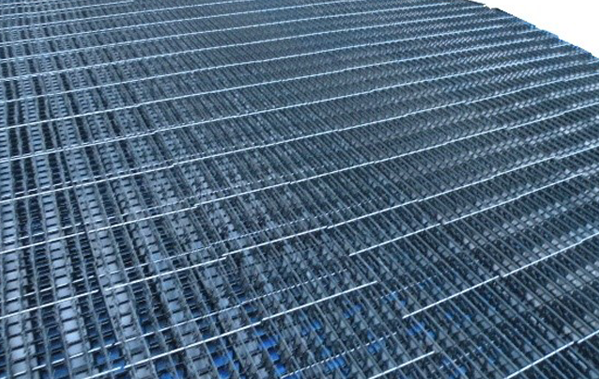 Main applications of grid packing
– Crude atmospheric and vacuum tower wash and stripping zones
– Lube vacuum tower wash zones
– Delayed coker / Fluid coker scrubber wash and HCGO pump around zones
– FCCU main fractionator slurry pump around zones
– Top section of refinery fractionators
– Visbreaker fractionators
– Pollution control scrubbers(SO2 and NOx Scrubbers)
– Reactor off-gas scrubbers
– Ethylene oil and water quench columns
– Acrylonitrile quench absorption columns
– Edible oil deodorizers

A.

1st Floor Hanaro Building, 25, Insadong 5-gil,
Jongno-gu, Seoul, 03162, Korea (Head Office)
T.

+82) 2-6356-2550 (Head Office)
T.

+82) 52-237-2720 (Shop)
E.

tpt@tptpacific.com