Structured Packing
for Laboratory & Pilot Columns
TPT's Lab. Packing offers with high number of theoretical stages per unit height.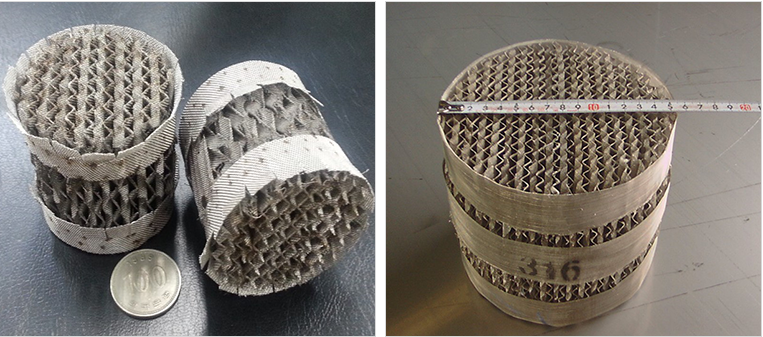 Applications
– HETP 200mm~50mm
– Laboratory columns from 20 to 100mm I.D.or larger
– Pilot columns from 25 to 150mm I.D. or larger
– From Vacuum to ATM Distillation
– High number of theoretical stages
– Separation task for preliminary assessment
TYPE
TSP-
500XG/YG
TSP-
750XG/YG
TSP-
1000XG/YG
TSP-
1200XG/YG
SURFACE AREA
(m2/m3)
500
750
1,000
1,200
TYPICAL HETP
(mm)
150-200
100-150
75-100
50-75
(*) The "G" designated packings are made of metal wire gauze, preferred applications are absorption, process
with small or extremely small liquid rates, rising performance of existing column, columns with limited overall height and aqueous solutions.

A.

1st Floor Hanaro Building, 25, Insadong 5-gil,
Jongno-gu, Seoul, 03162, Korea (Head Office)
T.

+82) 2-6356-2550 (Head Office)
T.

+82) 52-237-2720 (Shop)
E.

tpt@tptpacific.com