Structured Packing
TPT PACIFIC supplies various type & materials of Structured packing.
Metal sheet, Metal gauze, Plastic & Ceramic are available. Structured
packing offers a high fractionating capacity, a good wettability and low
pressure drop together with an exact adaptability to the respective
fractionation problem concerned.
Structured packing is available in a variety of corrugation crimp size at
two inclination angles.
Structured packing, designated "Y", has a 45˚ corrugation inclination
angle from horizontal and is most commonly used. Structured packing,
designated "X", has a 60˚ corrugation inclination angle and is widely
uesd in applications requiring high capacity and low pressure drop."X"
packing provides a lower pressure drop per theoretical stage for the
same surface area.
The "G" designated packing is made of metal wire gauze, preferred
applications are the process with extremely low liquid rates, improving
performance of columns with limited overall height.
TPT PACIFIC supplies the high capacity packing such as TSP-250H,
TSP-350H, TSP-500H, etc. The high capacity packing offers the same
efficiency of "Y" style with lower pressure drop. it is recommended
for gentle distillation at higher capacity.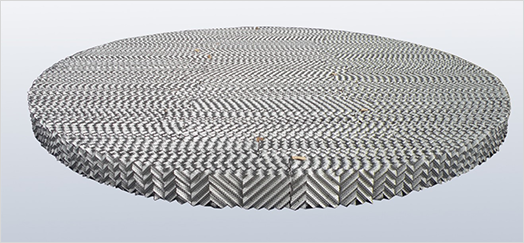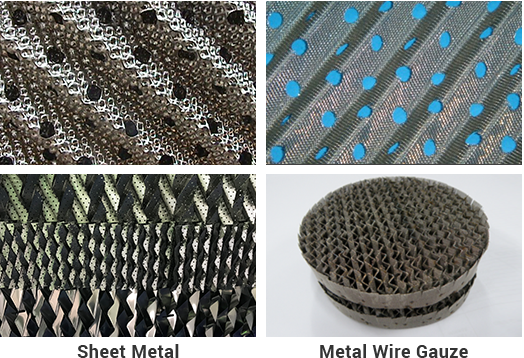 TYPE
TSP
64
X/Y
TSP
85
X/Y
TSP
90
X/Y
TSP
100
X/Y
TSP
125
X/Y
TSP
170
X/Y
TSP
175
X/Y
TSP
200
X/Y
TSP
220
X/Y
TSP
250
X/Y
TSP
300
X/Y
TSP
350
X/Y
TSP
450
X/Y
TSP
500
X/Y
TSP
750
X/Y
TSP
1000
X/Y
SURFACE
AREA
(m2/m2)
64
85
90
100
125
170
175
200
220
250
300
350
450
500
750
1,000

A.

1st Floor Hanaro Building, 25, Insadong 5-gil,
Jongno-gu, Seoul, 03162, Korea (Head Office)
T.

+82) 2-6356-2550 (Head Office)
T.

+82) 52-237-2720 (Shop)
E.

tpt@tptpacific.com